ABOUT US
Established in Hawaii as a meat distributor in 1975, King Food Service has become a leading multi-line food purveyor to hotels and restaurants throughout the islands.
With a reputation for providing the finest in premium meats, we also offer a wide variety of prepared foods & appetizers, desserts & bakery, dairy, vegetables/fruits, and gourmet & specialty foods.
We bring a unique advantage to our Hawaii customers by using a contracted cold storage facility in Los Angeles, CA., which provides a strategic location for consolidating Hawaii-bound foods sourced from the mainland and worldwide.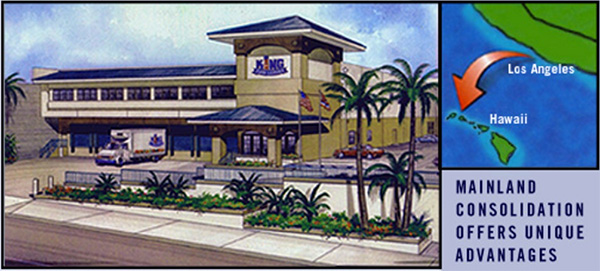 Our technically advanced distribution facility in Waipahu has over 750,000 cubic feet of cold storage space. Computer-controlled temperature zones, an enclosed refrigerated dock, and a fleet of modern refrigerated vehicles mean excellent product integrity during storage and handling. Neighbor islands are served through our own satellite redistribution centers or by contracted carriers.
With cuisine ever changing, we pride ourselves on offering our customers the latest selection of cutting edge foods and specialty products. Our innovative products add distinction to your menu and keep your guests coming back.